First Data Terminals
FD100ti
The First Data FD-100 credit card terminal is perfect for any small business looking for affordable functionality. This touch screen terminal combines reliability, performance and security in an all-in-one POS solution. Supports: Credit, Debit, Electronic Benefits Transactions (EBT), Gift Cards, Contactless Payments, Visa®, MasterCard®/ Diners Club®, American Express®, Discover®, JCB®, Fleet Cards (including Voyager, Wright Express, FleetOne and FleetCor [Fuelman and/FleetWide])*, TeleCheck® ECA®, TeleCheck® Paper Warranty and Verification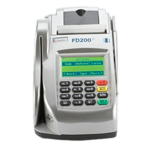 FD200ti with Check Reader
The FD200 is an all-in-one, point-of-sale solution that supports virtually all payment processing options in one space-saving terminal along with low cost of ownership. Supports: Credit, debit, Electronic Benefits Transfer (EBT), Gift Card, the TeleCheck Electronic Check Acceptance (ECA) service, and optional Dynamic Currency Conversion (DCC) service.
Verifone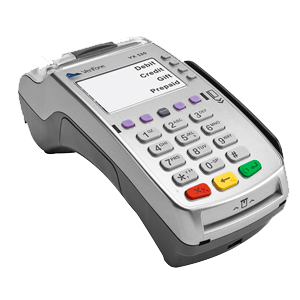 Verifone VX520
Reliable and sturdy, this countertop chip and PIN machine has been designed to keep up with the fast-moving nature of your business – authorising transactions quickly, including contactless and NFC payments to support mobile wallets.Plus, you can customise the VX 520's vivid colour display with brand graphics and promotional displays, to add value at the point of payment.
PAX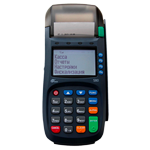 PAX S80
PAX's S80 is an advanced countertop POS terminal which combines innovation, durability and high performance to assure faster, more reliable transactions. The PCI PTS 3.x approved S80 offers advanced connectivity, equipped with various communication technologies such as Dial and Ethernet. An intuitive ATM-style interface and ergonomic keypad make operation easier for merchant and consumer alike. The S80 comes with powerful ARM11 processor and optional built-in contactless, enabling support for multiple payment and value-added applications, making this countertop terminal one of the most reliable in the world.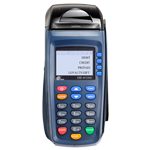 PAX S90
PAX's S90 mobile POS terminal has been designed to offer superior wireless performance, embedded in a ruggedized yet stylish form factor. With a large memory and a high capacity Li-ion rechargeable battery, the S90 is one of the most popular mobile terminals with merchants today.The S90 comes with PCI PTS 3.x certification, optional built-in contactless, and delivers secure transactions using an ARM11 processor to support DUKPT, Master/Session and 3DES.
Dejavoo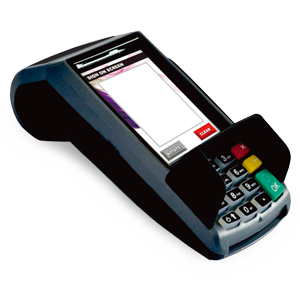 Dejavoo Z9
Z9 Wireless 3G with EMV and NFC Contactless Built In with a 3.5'' Color LCD with Touchscreen, 192 MB of Memory (128 MB RAM / 64 MB DDR RAM), PCI PTS certified, EMV 4.x L1 and L2 certified, Visa payWave, MasterCard PayPass, American Express & JCB J/Speedy certified, 32bits 400MHz high speed microprocessor and Portable design with optional handset and base unit
Dejavoo Z8
Dual Comm with EMV and NFC Contactless Built In with a 2.4'' Color LCD with backlight, 192 MB of Memory (128 MB RAM / 64 MB DDR RAM), PCI PTS certified, EMV 4.x L1 and L2 certified, Visa payWave, MasterCard PayPass, American Express & JCB J/Speedy certified, 32bits 400MHz high speed microprocessor and Optional version dual comm & Wifi
Dejavoo Z1
Built In NFC Contactless Reader with EMV 4.x L1 and L2 Certified Ethernet connectivity, 32 bits high performance secure Microprocessor, @ 400MHz, 2.4" color LCD (320x240 pixels), 192 MB of Memory (128 MB RAM / 64 MB DDR RAM), High Security CPU, Open Architecture Linux Operating System and PCI PTS v3.x Certified